GunSpinning VR 1.2.1 is out now!
---
Hi everyone,
Today I'm glad to release a major version of the game. This new version contains a lot of new features. First the story is done and you can expect three new levels and two bosses. You'll be able to play with 3 modes : Story, Survival, Survival 360. This version is also compatible with new Windows Mixed Reality Immerse Headsets (aka Windows VR Headset). I prepare an update to the Windows Store right now.
Story
The Story is complete and now I have to finish three levels and two bosses to have a complete vision of what I want.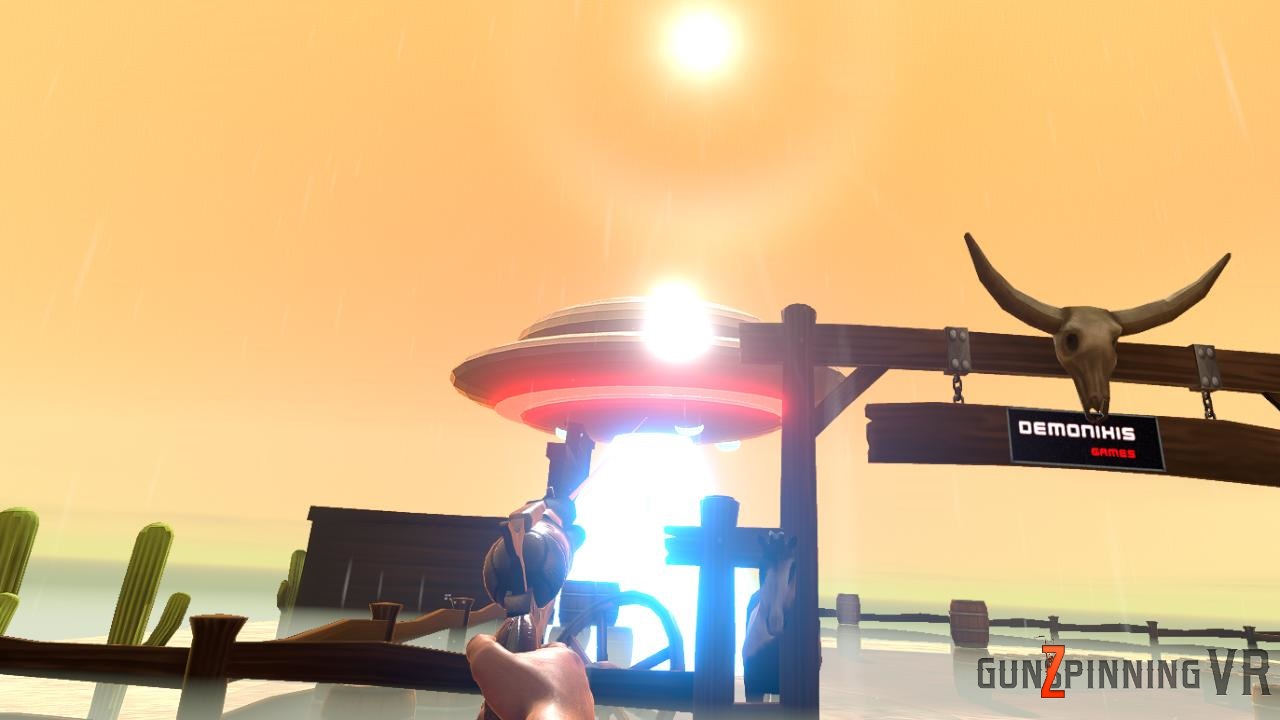 The flying saucer is the center of the story so becarefull because you'll see it in some levels!
Trial mode
The demo has been upgraded too ;) Free users can now enjoy the training mode and a part of the first level in story mode. That's the case on all platforms (except Android PlayStore), including Windows Store.
Options
Because we don't have the same PC or phone, it's important to expose required options to tweak the game as you want. The new options panel contains all you need to downgrade or upgrade graphics! Take a look at the following screenshot: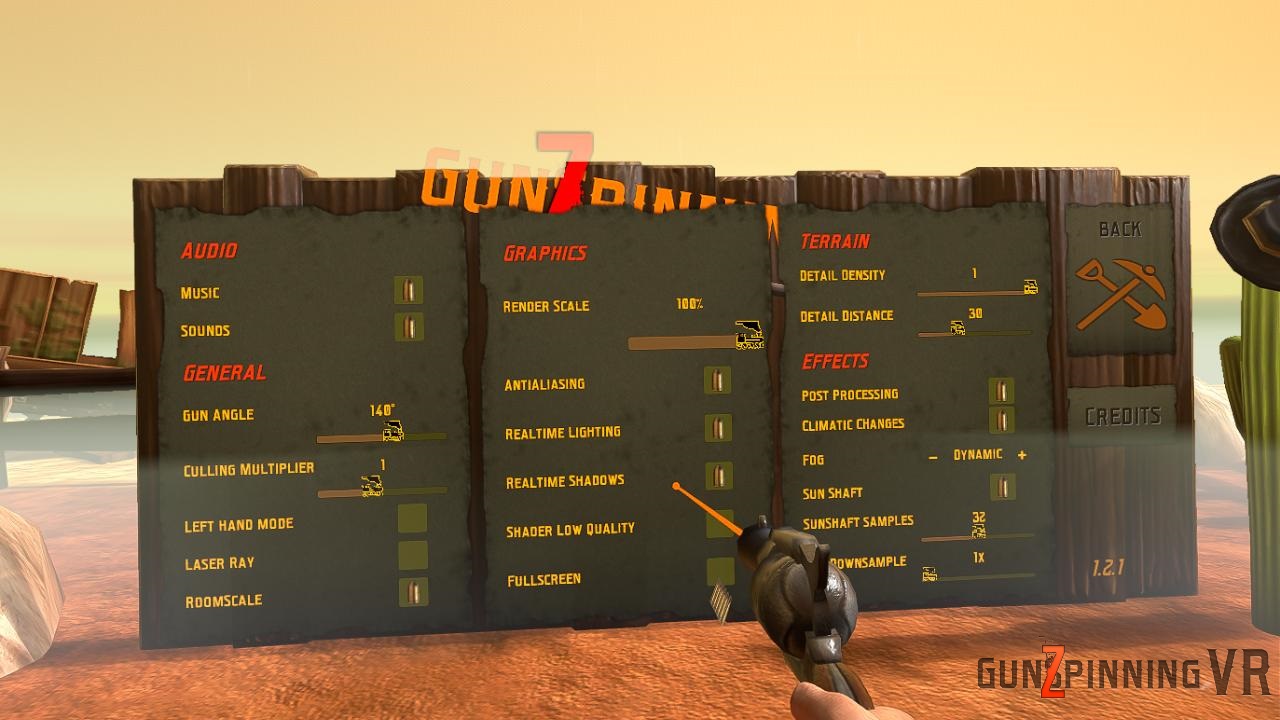 There are some very important parameters allowing you to get the better or the faster graphical experience.
The Culling Multiplier allow you increase or decrease the culling system. For performance reason, some objets are only drawn if the player is very close. The result is that objects appear/diseaper when you move. This system is new and you can set the value to 2 if you want to see all objects all the time. That's the previous behaviour!
Render Scale is important for VR because it downgrades the resolution but increases the FPS. On the PC you don't have to change this parameter, but it's recommanded to use a value of 80% on mobile.
Sun Shaft will enables a very nice effect but it impacts performances a lot. It's recommanded to disable it if you play in VR or on mobile. You can try to enable it in VR by reducing the value SunShaft Samples (32 on very high end GPU or 16 on high end GPU).
Volumetric Downsample allows you to get better performances when the Volumetric Fog is enable.
The Detail density controls the quantity of grass in some levels. The more you have grass, the more it impact performances. Also the Detail Distance parameter controls the display distance of the grass. You can have a great visual by tweaking these two parameters. You can also disable the grass with Detail Distance set to 0.
Room Scale is an option dedicated to VR users. When it's enabled, the player is teletransported. You can also move, zombies will follow you! If you've a big area, you can even try to escape :D
Goals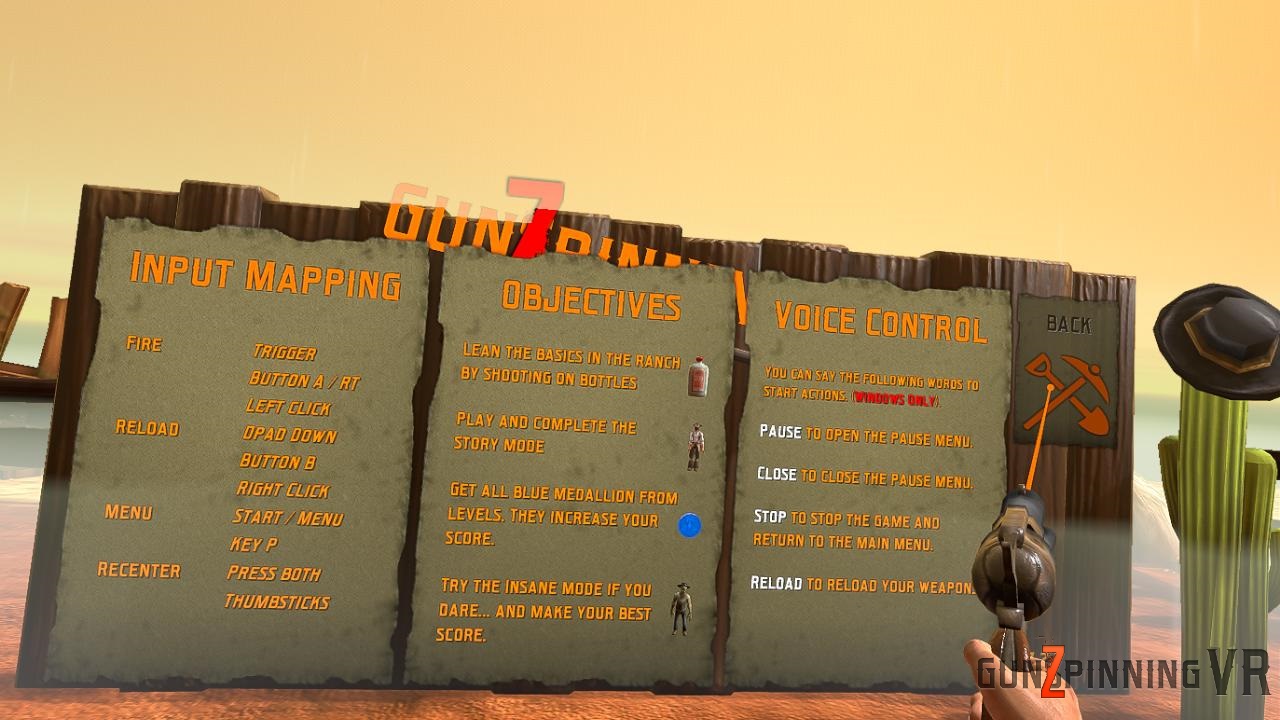 Because the game has more and more features, it was important to create a dedicated menu to tell you what you can do in this game.
OSVR
I made many changes in the OSVR integration, please report me all issue you can have with this new integration. It works, but effects can have problems. I haven't tested all cases. It must work, but it can fail. I recommand you to use the OpenVR integration for now.
Android
No Android build for now, I want to finish some tests to publish a beta on the Google Play Store and here. All optimizations made recently will help a lot the Android version. The next version will follow in the coming weeks.
Have a good game with this new builds!
demonixis.
Files
gunspinning-vr-windows-x86.zip
337 MB
Version 1.2.1
Sep 02, 2017
gunspinning-vr-windows-x86-demo.zip
177 MB
Version 1.2.1
Sep 02, 2017
gunspinning-vr-windows-x64.zip
344 MB
Version 1.2.1
Sep 02, 2017
gunspinning-vr-linux.zip
397 MB
Version 1.2.1
Sep 02, 2017
gunspinning-vr-osx.zip
349 MB
Version 1.2.1
Sep 02, 2017
gunspinning-vr-osx-demo.zip
189 MB
Version 1.2.1
Sep 02, 2017
gunspinning-vr-linux-demo.zip
235 MB
Version 1.2.1
Sep 02, 2017
gunspinning-vr-windows-x64-demo.zip
137 MB
Version 1.2.1
Sep 02, 2017