Hello everyone,
Today I'm glad to release a new version of GunSpinning VR with new features and important updates. This is the last beta version because the next update will unlocks three new levels as well as two bosses! In fact, levels and bosses are already included in this release but locked because I've to tweak the balancing first. But you can expect a new release in two weeks with the full game :)
Xbox One
The game was optimized for the Xbox One, my plan is to release the game on the Windows Store for both Windows 10 and Xbox One. On Xbox One the game will be available in the Creator Program section. If you buy the game on Windows, you can play it on Xbox One!
Because the Xbox One is not yet compatible with VR, I had to improve drastically the non VR experience. All menus can be controlled using a mouse, a keyboard or a gamepad. The weapons are disabled in the menus too. Finally the option menu is simplified on Xbox One because you don't need to change graphic settings.
Working on that is benefic for ALL non VR users!
I don't have integrated the Xbox Live SDK because it's not compatible with my Unity setup.. for now.. I hope we'll find a solution quickly.
OpenVR on Mac
The game is compiled with Unity 2017.2f1, that mean the game is now compatible with OpenVR on Mac! If you've a Mac and a VR setup, you can enjoy the game now.
A BIG OSVR update
Thanks to the last update of the OSVR Unity SDK, the integration uses now the built-in Unity XR integration. Performances are better, effects are better and this integration uses the great Single Pass Stereo Rendering feature that improves the FPS. Unfortunately this feature only works on Windows.
The controllers integration has been tweaked too, it's not yet perfect but better. You can try to enable the native controllers integration by starting the game with --osvr-controllers parameter.
Finally I have added a missing feature, the ability to start the game in non VR mode. If you have the Steam-OSVR plugin, you have to start the game with -vrmode none to use the native OSVR integration.
A new UI
A new UI was added to replace the old one which was... old :D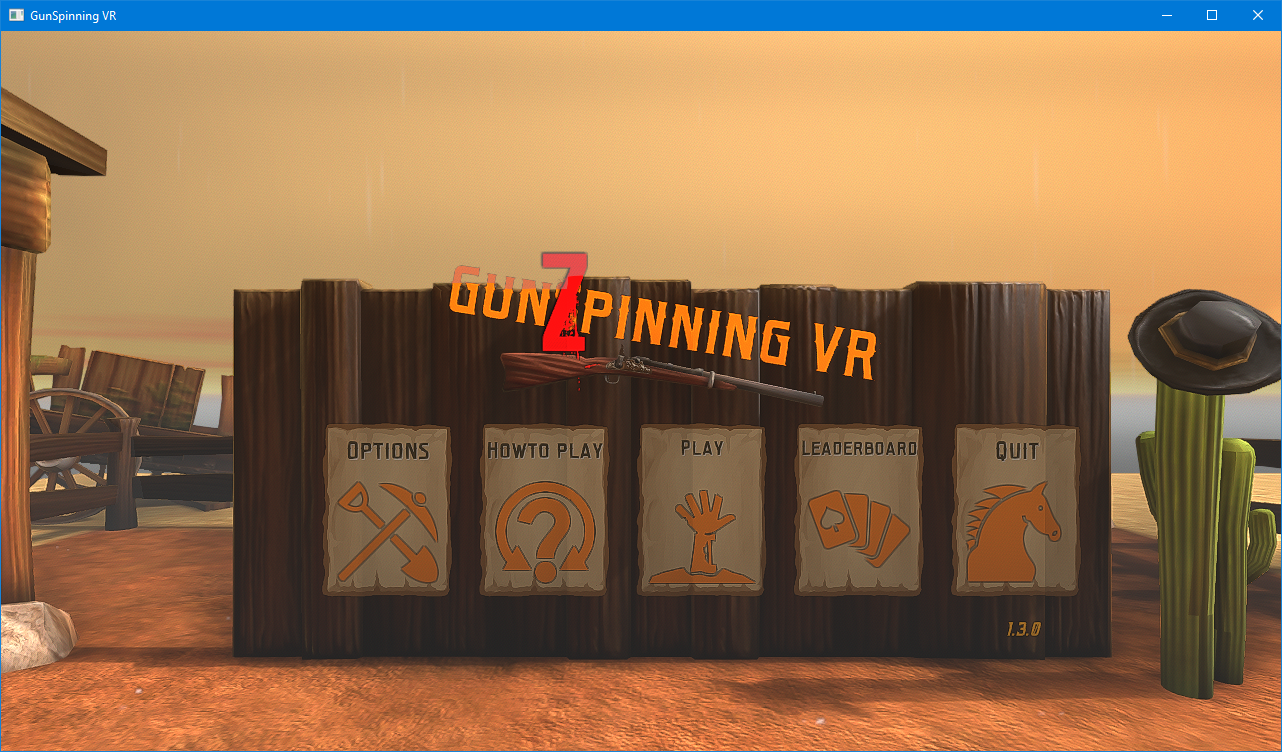 Almost all UI elements was changed, it's not yet finished.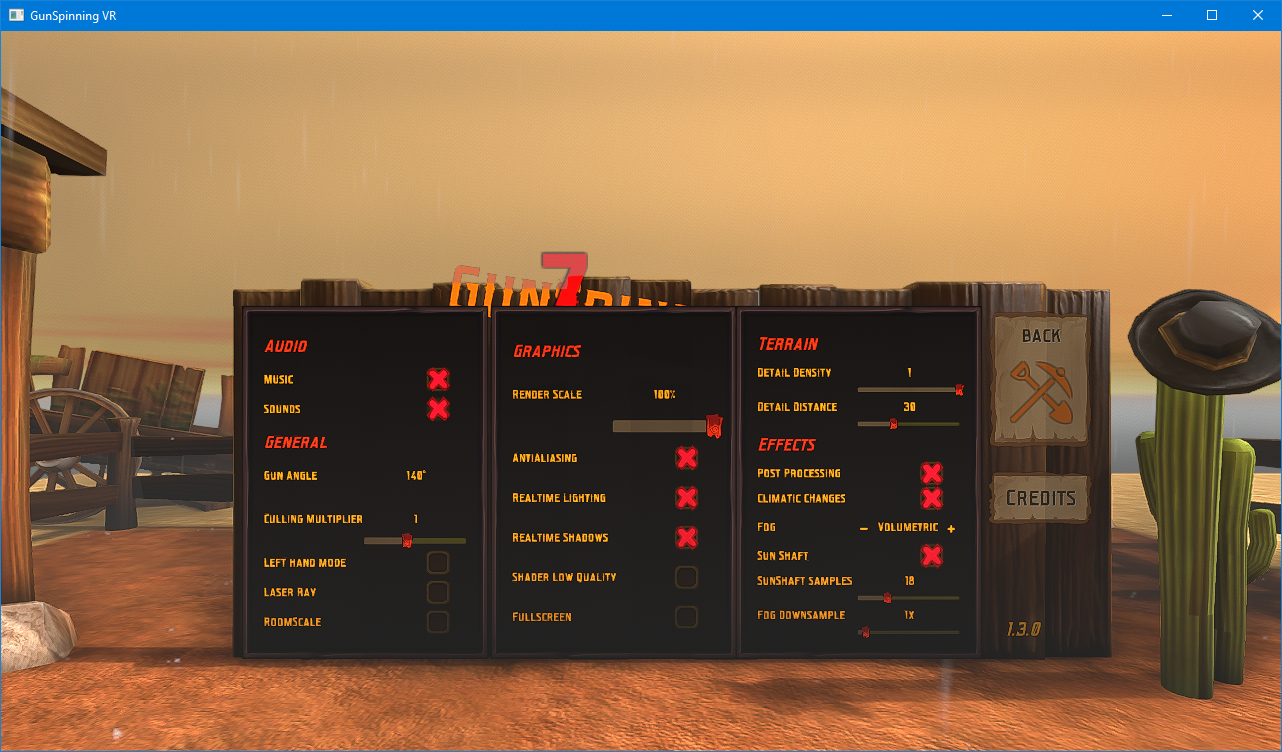 The new option menu.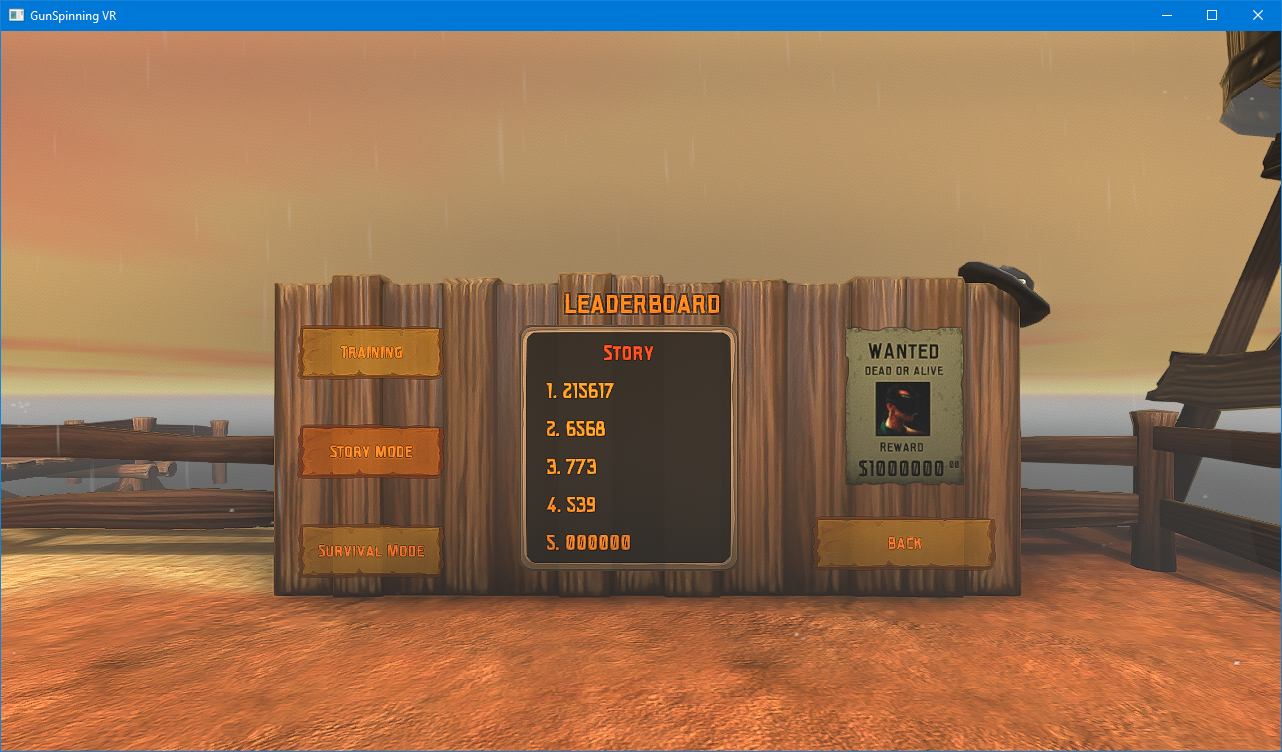 The leaderboard was simplified!
See you in few days/weeks for a new BIG update,
Have fun and play well,
demonixis.
Files
gunspinning-vr-windows-x86.zip
337 MB
Version 1.3.0
Sep 24, 2017
gunspinning-vr-windows-x86-demo.zip
177 MB
Version 1.3.0
Sep 24, 2017
gunspinning-vr-windows-x64.zip
344 MB
Version 1.3.0
Sep 24, 2017
gunspinning-vr-linux.zip
397 MB
Version 1.3.0
Sep 24, 2017
gunspinning-vr-osx.zip
349 MB
Version 1.3.0
Sep 24, 2017
gunspinning-vr-osx-demo.zip
189 MB
Version 1.3.0
Sep 24, 2017
gunspinning-vr-linux-demo.zip
235 MB
Version 1.3.0
Sep 24, 2017
gunspinning-vr-windows-x64-demo.zip
137 MB
Version 1.3.0
Sep 24, 2017